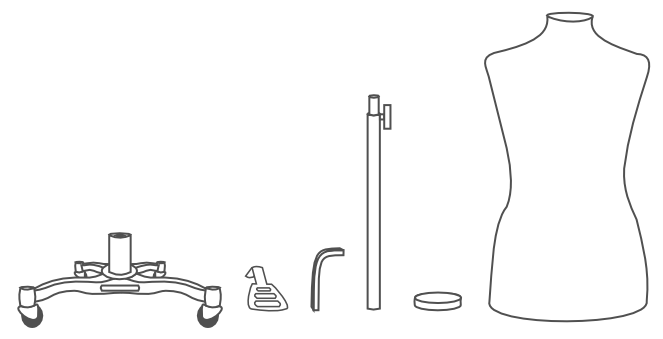 step 1.

Use the Allen wrench included in your package to remove the screw at the bottom of the pole. There should also be a small metal twisted ring that will come out after the screw is removed.
Please Note: Our newest version of this pole does not need this bottom screw and this first step can be skipped.
step 2.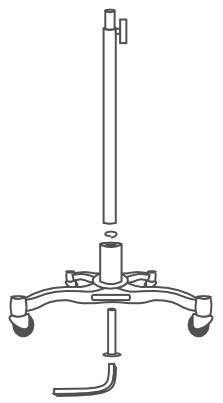 Insert the small twisted metal ring through the hole on the top of the base and the screw through the hole on the bottom. Try to make sure that screw also goes through the twisted metal ring. Afterwards, insert the dress form's pole through the top of the base and use the Allen wrench to secure it in place.
Spring - our newer models of the metal rolling base come with a spring. The spring is to be inserted into the pole and it rests on top of the base. It is purely for aesthetics (meant to emulate the look of our professional dress forms) and does not need to be attached to the base for it to function.
step 3.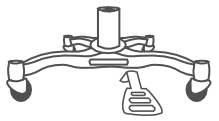 Slip the top of the pedal over the little bar (between two the legs) and under the center the base. This should secure it in place.
Note: the pedal is purely for aesthetics. Raising and lowering the torso of the dress form is accomplished by adjusting and tightening its pole (see below).
step 4.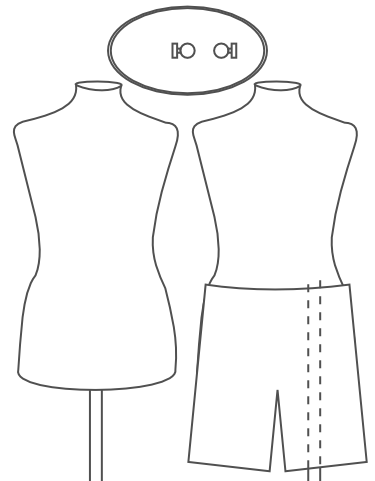 The body of the dress form can be attached to the pole either from the center or from the side. Generally, the dress form is attached at the center as this is where it is most stable. Should you wish to display pants/ trousers on the form, the pole should be inserted through the side hole (after, of course, the dress form is wearing the pants/ trousers).
Note: should you wish to attach the pole through the hole on its side, it would be best to push as much of the pole through the hole as possible (see diagram). Fastening the side hole to the very top of the pole will cause the dress form to lean to the other side.
The height of the dress form can be adjusted by raising and then tightening the top pole.
step 5.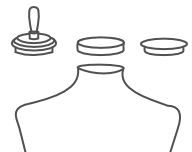 The cap is attached on top of the neck of the dress form by either securing in inside the neck hole or over the neck hole, depending on the type of the cap you had ordered.
Note: For reasons beyond our control, some of the caps might be unequally sized - resulting in a difficult fit. Generally, this issue can be completely resolved by gently squeezing the neck and applying slight pressure when attaching the cap. Should it prove to be too difficult, please contact us and we will gladly send you a replacement.
and finally...