Child Display Dress Form on Metal Rolling Base
Child Display Dress Form on Metal Rolling Base
Torso wrapped in black jersey
Measurements in chart below
Shipping and Returns

+

Shipping is free within continental United States. We also offer hugely discounted shipping rates (over 75% off!) for international orders.

In stock sizes are typically delivered within 1-6 business days. We ship from Lakewood, New Jersey with UPS and USPS.

We accept returns for a complete refund. Learn more here.
As low as
$149
+ free shipping
Measurements
| | Bust | Waist | Hips | Torso Height | Height + Head |
| --- | --- | --- | --- | --- | --- |
| 4 years | 25 in | 64 cm | 23 in | 59 cm | 25 in | 63 cm | 18.5 in | 47 cm | 23.5 in | 60 cm |
| 8 years | 26.5 in | 67 cm | 24 in | 61 cm | 27 in | 68 cm | 22 in | 56 cm | 28 in | 71 cm |
About the Form
Display but also Design
Our TSC Display Dress Form Mannequin line is built for display use but can also be used for design. The torso is formed by a thick and tough inner plastic core which is then covered by a thinner layer of foam and then the outer fabric layer. Both of these outer layers can hold pins (though the pins need to be inserted at an angle).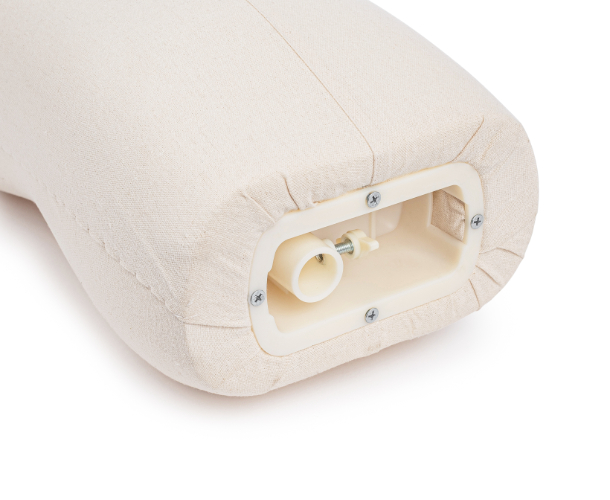 Off-center Connector
Our child display forms come with a single connector which is strategically placed slightly off the center of the form. This allows the torso to be used with pants as well (as the pole sits inside the right pant leg).
Multiple Neck Piece Options
Characterize your form to fit your style. By default, this configuration comes with the 'knob finial' design pictured in the main product photos. However, you can choose to swap this out with a flat finial design in the same color or a fabric wrapped head (matching the same fabric as the torso).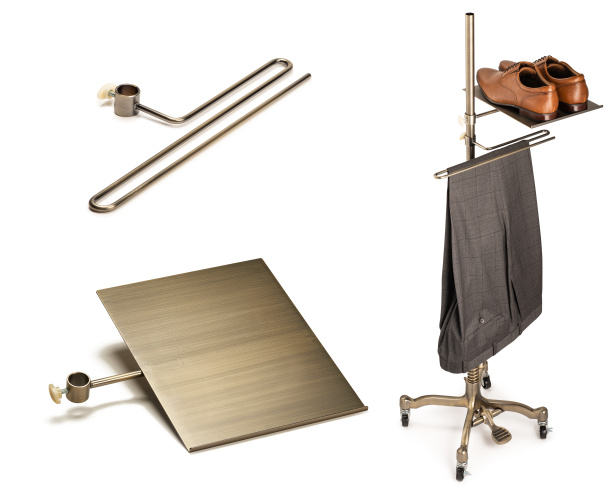 Display Shoes and Pants with this Form
Add on our pants and shoe bars to showcase entire outfits. These optional accessories match the color and material of base you are choosing.
What are the differences between the Professional Dress Form line and the Display Dress Form lines?

The Professional Dress Form line was created primarily for fashion design while the Display Dress Form line was created primarily for fashion display. Display forms can still be used for light design work. For more details, please see the chart on our main display form category page (here).

What is included with this form?

Each display form package comes with everything shown in the product photos: torso, finial (the neck piece), pole and base. There is also an illustrated assembly guide for easy setup.

Will there be more sizes introduced?

We are actively working on the molds for a few larger sizes but do not have an ETA yet on when these may become available. Our professional dress form line has a much wider range of sizes.

Is the height adjustable?

The torso can be raised and lowered significantly along the base pole. Floor standing display dress form models can reach over 6 feet tall.

Do you ship outside of the United States?

Yes! We offer shipping worldwide. The "free shipping" promotion is only within continental United States but our international shipping rates (shown on the shopping cart page and then again during checkout) are substantially discounted (over 75% off the list prices).

Depending on the country, there might be customs import fees or similar (which will be billed by either your country's import department or the shipping carrier you use). Our website does not charge these fees.

Do you guarantee your forms?

Yes! We strongly believe in - and stand behind - our forms. If a part fails during normal usage within the first year of purchase, please reach out to us and we can have a replacement part sent over.

Please note that for international orders, this warranty does not cover the part's shipping cost.

Do you accept purchase orders for large orders?

We do accept valid purchase orders from schools and larger brands. Please contact us beforehand should you require a quote or any other information. Purchase orders can be sent to us at sales@theshopcompany.com.

Do you offer financing or options to pay in installments?

We offer financing through our partner, Klarna. Payments can be broken up into 4 equal installments. Simply select the Klarna payment option at checkout.
Details
TSC Display Forms can be used for both displaying and creating clothing. All child display torsos have a single connector slightly off the middle of the form for the pole to connect (which allows the form to be used with pants and underwear).
Torso can be lowered or raised on the pole (to be over 6 feet tall on floor standing bases)
| | Bust | Waist | Hips | Torso Height | Height + Head |
| --- | --- | --- | --- | --- | --- |
| 4 years | 25 in | 64 cm | 23 in | 59 cm | 25 in | 63 cm | 18.5 in | 47 cm | 23.5 in | 60 cm |
| 8 years | 26.5 in | 67 cm | 24 in | 61 cm | 27 in | 68 cm | 22 in | 56 cm | 28 in | 71 in |
Reviews